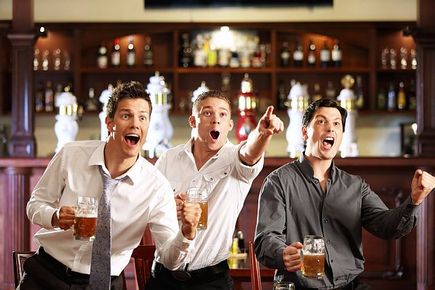 Krakow Night Life

What do you know about the night life in Krakow? Party Krakow can tell you where you can spend your most unforgettable stag-party in Krakow. The first thing is, clubs and pubs are open for you all around the week. Krakow is the main tourist city in Poland, which means that in the Main Square and in Kazimierz you can find a lot of places to chill, relax and drink. The second thing is the prices What do you think, how much money you have to spend to have a good time? Don't worry about that! You can get one beer for 1-2 £ (it depends on type of club or pub), it's so cheap!

Another main feature of Krakow nightlife is, many girls like to spend their hen parties in clubs and invite their friends (and not only!). It's a good opportunity to meet some beautiful and nice girls. All clubs, pubs and restaurants in the Main Square are literally next to each other. It is also interesting that many clubs in Krakow and pubs are located in cellars, as is, for example, a well-known pub in Krakow, C.K. Browar. Some clubs can accommodate almost 2,000 people, and some stop at a smaller 400. In general, Krakow has a very mixed culture. Here you can meet people of different nationalities and cultures. We would like to tell you about the most famous clubs and pubs of Krakow. You can choose the best place or even switch between several places to organize the best stag party in your life and spend your weekend in the way you truly want!

TAAWA Club

TAAWA club is located in the centre of Kazimierz (the old Jewish part of Krakow), which is always full of life. It's the favourite tourist place for meetings. TAAWA was founded in 2008, and the interior is done in a modern, romantic style. This club can accommodate 400 guests. In 2014 a new area was created inside – two separate rooms that provide independent sound and also a personal bar that serves a full menu of exotic cocktails. The average prices on alcohol will amaze you. This music club cooperates with the best DJs, who play not only radio hits, but also show off their own music. TAAWA club adapted for partying stag groups. You can dance salsa or even hip hop. And what about lounge? Maybe electro house, deep or techno house? You'll hear every style of music in this club. The last interesting thing is, TAAWA is the favourite place of young and older, 30-40 years old people. Selection is strong, so inside this club you'll see well-dressed people who want to be in a pleasurable atmosphere and drink delicious cocktails.

Shine

Shine club is the perfect place to say goodbye to your bachelor status. You are stagger now! The VIP area is an elegant private place for you and it's perfect for such a kind of stag-party. Your stag-party must be the best of all – after all, it's the last night being bachelor. You could ask, why this type of clubs is one of the best? Because with all the surprises done in luxury club atmosphere, it works in the best way! Three independent parts of the club with a different kinds of music in each guarantees that everyone can find something suitable for themselves. To get to the club you must pass face and dress control. The entrance is 15 zlotys. But if you want to make a reservation for your group in this club, the price for the entrance will be included to the main account. The prices are not so high. It's a huge club for 2000 people with deeply luxurious interiors. It's a place for young, high-styled people. Many Polish girls like to come to this club.



Four Music Club

This club is located in a cellar of Jagiellonska street, very close to the Main Square. The club has a youthful atmosphere. Here you will see a lot of students who love to dance, who want to get some break from lectures and exams. Aside from partying in this club you can have some shots, enjoy the barman's work and try some different cocktails. The choice of alcohols in this club is very big and can satisfy all your friends' tastes. The interior is pretty nice and bright. One important thing is that you can come to the club dressed in funny costumes, but it's only possible if our guide from Krakow Night Life is with your group. But then - use your imagination, wear everything you like!

CK Browar

It's a place in a very good location in the very center of Krakow – a great place to visit with your pack of friends for a beer. Single beers aren't all that cheap, but if you grab a seven- or ten-pint pipe then the price per head isn't that high. You can watch a football match and have a snack in the main room. The place has a very interesting design and is well-groomed. It's also spacy, but always has a lot of customers. It's a great place for a good beer and a tasty dinner. It's mostly a pub for us, but it's also a very good restaurant and they have a pretty groovy dancefloor climate, so you can spend a whole party in this single place. You can usually reserve the hunting-themed hall for a bigger group of friends and party Galicia-style by venison and beer. After that you have to see the night club that's in the same basement – it's a good finish after the food and beer from the main club!
Kulturalny

Pub Kulturalny has its own polish climate, friendly staff and the best selection of vodka and beer in the Main Square. The prices are very low. There is always a lot of people, so the atmosphere is generally cheerful. Several rooms with different decorations are available for stag-party reservation. This pub is ideal for a stag drinking night, but keep in mind that the property, located in a large basement, is full and closed for the last customer almost every day. There is a separate room that can be booked or rented; it's worthy of a recommendation! Its decoration is a couch, clocks and taxidermy. There are frequent for Reservoir Dogs and beer. The place has a typical "studently" feeling to it, yet another place where Krakow's youth likes to hang out in the evening :) It's best to simply have a beer with your friends in here.

Klub Społem

The Społem Pub, even though it exists for a relatively short time (since September 2006), has already become a must-visit place for people who place music before anything else. Check it out during the parties that are held here every day. Fridays belong to the 60s, 70s and 80s, Saturdays are all old school disco with some reggae and rock. Wednesdays and Sundays have old school karaoke and there are dance parties all other days. In one word: classic! If you want to groove to the rhythms that aren't the newest trends ever, if you like the 60s-80s – you completely have to visit this club. Starting with the name, through the decoration and music the place shows its unique character. But the climate isn't the only unique thing here – Społem also has a multitude of other attractions, such as concerts, toon shows, projections, communist holiday celebrations, including the 1st of May. About the decoration, it suits the climate, but sometimes it seems that the attitude towards it is too concentrated on the budget. The club is located in the basement, nonetheless it creates a "home" feeling, and some may even shed a tear at the sight of a dancing floor surrounded by sofas and chairs that are, as described by the owners, "made in Poland".
Licencja: Copyright - zastrzeżona